[from
João Cabral de Melo Neto
's
Selected Poetry, 1937-1990
, ed.
Djelal Kadir
,
Wesleyan
, 1994]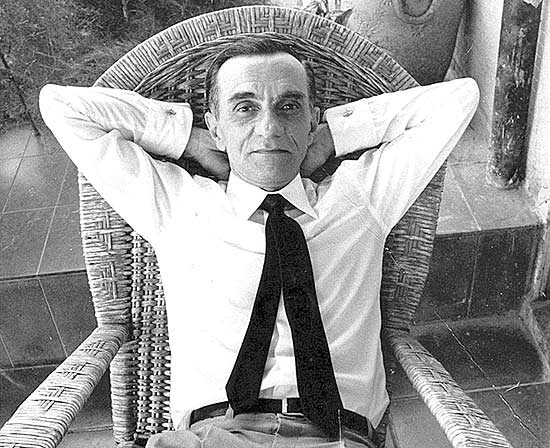 The Lesson of Poetry
1.
The entire morning spent
like a motionless sun
before the blank page:
beginning of the world, new moon.
You could no longer trace
so much as a line;
neither name nor flower
bloomed in the table's summer,
not even in the paper's midday
brightness, paid for
daily (even though paper
accepts any kind of world).
2.
All night the poet
at his desk, trying
to save from death the monsters
germinated in his inkwell.
Monsters, worms, phantoms
of words – meandering,
urinating on the paper,
smearing it with their carbon.
Carbon from the pencil, carbon
of obsessions, carbon
of extinct emotions, carbon
consumed in dreams.
3.
White struggle on the paper
which the poet resists,
white struggle of blood
flowing from his saltwater veins.
The physics of fear discerned
in daily gestures; fear
of things that never alight and yet
are immobile – unstill still lifes.
And the twenty words collected
in the saltwater of the poet,
to be used by the poet
in his efficient machine.
Always the same twenty words
he knows so well: their operation,
their evaporation, their density
less than the air's.
– translated by Richard Zenith
Psychology of Composition
[excerpt]
V.
I live with certain words,
household bees.
From the clear day
(white parasol)
those lucid spindles
retrieve the filaments of honey
(from the day that unfolded
also like a flower)
that by night
(pit where the aerial
flower goes to rest)
will persist: golden
taste, and sour,
against the sugar of putrefaction.
– translated by Djelal Kadir