[from
Black Dog, Black Night: Contemporary Vietnamese Poetry
, ed./tr. by
Nguyen Do
&
Paul Hoover
,
Milkweed
, 2008]
Nguyen Do & Paul Hoover
Three Variations at Sixty-Five Years Old [excerpt]
– Van Cao

I fall into a spiderweb
It wraps me tightly
no way of getting out
I'm like a silkworm
in this life
I want to break the net
but my arms are far too few!
Van Cao
Women Carrying River Water
– Nguyen Quang Thieu
Long, black, and bony, their toenails splay wide as a hen's.
For five years, fifteen years – thirsty years and half my life –
I've seen them carry water from the river.
Their hair flows down their soft, wet backs,
one hand supporting the thin shoulder poles,
the other clinging to the whiteness of clouds.
The river hides its face in its banks then turns and runs on.
The men leave home silently, carrying fishing poles and dreams of the ocean.
The spiritual fish turn their faces away to weep.
Buoys made of corn sink in the river's flow.
Angrily and sadly, men are leaving the home
that I have seen for five years, fifteen years – thirsty years and half my life –
following these women who carry river water like naked children
who run along with their mothers and soon grow up.
The girls will always lay poles on their shoulders and go to the shore.
The boys will always leave home silently, carrying fishing poles and ocean dreams.
And the spiritual fish will always turn their faces to weep
in front of the bait, dumbstruck as it gazes from its fishhook.
Nguyen Quang Thieu
Collected Short Poems [excerpt]
–Tran Dan
A circle of people always surrounds a naked man.
Creation is total force, action, and suddenness including the
scrotum, which is involved in creation also.
Building a poetry collection is like breaking into a prison.
Tran Dan
To Suddenly Remember
– Thanh Thao
like someone beating a drum, the rain dropped on my waterproof
army poncho
which was torn and badly needed mending
my friends were like forest trees, day by day diminishing
the war cut them down
like an electric trimmer
but now they're all at peace
I remember also that evening, as a child,
the sweetness of the banana in my mother's hand,
even sweeter when she carried me on her back!
the road over the dike echoed the soul of the river
dark brown sails and bamboo shadows floating slowly
a bridge where an older man got tired
and lay down to rest but not sleep
the room where he keeps only the barest necessities
the ripe smell of bananas
some old chairs
and a small ancient teapot
the aged sunlight
an evening of summer rain
and the bomb's echoes from the Duong bridge that sounded like
rolling thunder
my parents lived there in a home
a ten-square-meter country
but because of our greater home
my parents didn't prevent me
from going into battle
not hoping for a brave death or "rainbow"
I'm the hand on a compass
that only turns toward our room
where everything is old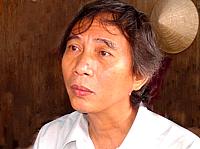 Thanh Thao